The City of Lynnwood drinking water utility provides clean and sanitary drinking water to the residents and businesses of Lynnwood. We are committed to providing you with a clean, uninterrupted supply of water whenever you turn on a faucet, flush a toilet, or water your yard.
Water

Comprehensive Plan

update
Every six years the City of Lynnwood is required by the State Department of Health to reassess its water utility by updating the City's Water Comprehensive Plan (view the 2012 plan). Lynnwood recently conducted several system analyses for large developments, and those analyses have shown the City's current capital improvement plan is adequate to meet future needs. Therefore, only a brief update to the Comprehensive Plan was required. This online open house is to make our residents aware of this update and share more information about how our water system works.
The 2018 update was an update to Chapter 2, Basic Planning Data and Water Demand Forecasting (view the 2018 update). We hired a consultant to update our population and employment projections to see if our planned upgrades can meet the projected demand for water in 2038. The planning data showed future demand could be met by our current plan, therefore additional updates to the City's Water Comprehensive Plan were not needed.
Delivering clean water
The water that you use begins as rainfall in the Sultan River basin approximately 40 pipeline miles away. The City of Everett collects the water in the Spada Lake reservoir and then filters and disinfects it at their Chaplain Reservoir treatment plant. The water is piped to reservoirs in the City of Everett, then is sold and pumped to Alderwood Water & Wastewater District's reservoirs just north of Lynnwood. Lynnwood buys its water from Alderwood, and the water flows by gravity to all but the highest point of Lynnwood.
Translate this site
If you need information translated, select your language using the "Select Language" bar at the top of this page. This allows you to translate the entire website to more than 100 languages using Google Translate.
Para traducir el sitio web completo, haga clic en la barra "Select Language" en el ángulo superior derecho. Esto le permite traducir todo el sitio web a más de 100 idiomas usando Google Translate.
Interactive map: Find how water gets delivered to you
Lynnwood delivers clean Cascade Mountain water to its customers through 175 miles of pipe and 8,500 water meters. Additionally, fire protection is provided by 1,800 hydrants. Select the layers featured in the map below to see where pipes and fire hydrants are delivering clean drinking water across Lynnwood.
Use the search box to find a location on the map.
Fire protection
In late January 2017, Lynnwood witnessed our city's biggest fire near The Reserve senior apartments and the Lynnview Apartments. Crews relied on fire hydrants connected to our drinking water system to extinguish the fire. Firefighters used 3.2 million gallons of water to put out of the fire, which in January 2017 cost the City about $4,700.
Water consumers
The customers of the water utility in 2017 breakdown as follows:
Single family - 6,746
Multi-family - 509
Business, Schools - 1,263
Check your local knowledge:
Do you know where your nearest fire hydrant is?
Review the fire hydrants on the interactive map to find out.
While the World Water Council says that approximately 1 billion people do not have access to safe drinking water, the cost of safe and clean water on demand for a resident of Lynnwood is shockingly inexpensive. The 2019 bi-monthly bill for a single-family residential customer in Lynnwood is $50.22. That amount covers the first 10 hundred-cubic-feet (ccf).
How much water is 10 hundred-cubic-feet (ccf)?
You could fill 59,840 16-ounce water bottles with that water. Filling a bottle of safe, clean water from your tap costing about 1/10th of a cent!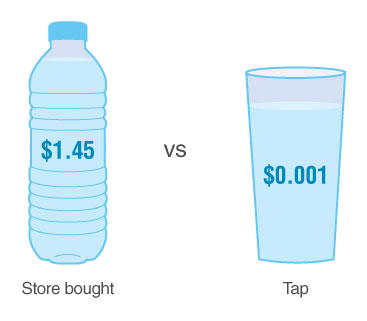 Check your local knowledge:
How do you use your 10 hundred-cubic-feet?
Think about all the ways you use water inside and outside your home.
How do we know the water delivered to you is clean?
We know Lynnwood's drinking water is clean because the filtering, disinfecting, and testing is rigorously regulated by the US Clean Water Act and the State of Washington Office of Drinking Water. The City of Everett adds just the right amount of chlorine at their treatment plant: enough to keep the water safe from contamination all the way to your faucet, but not enough to affect taste and smell.
Regular testing
For the 175 miles of the Lynnwood distribution system, 60 water quality samples are taken at 40 locations each month to check for possible contamination. The chlorine residual from the level of chlorine added at the treatment plant, which provides protection from bacterial contamination, is checked daily.
Hydrants are regularly flushed to make sure water does not get stagnant. While this can sometimes stir up sediment and lead to temporary cloudy water, in the last 30 years, there has not been one instance of bacterial contamination in the City of Lynnwood system.
2019 Annual Water Quality Reports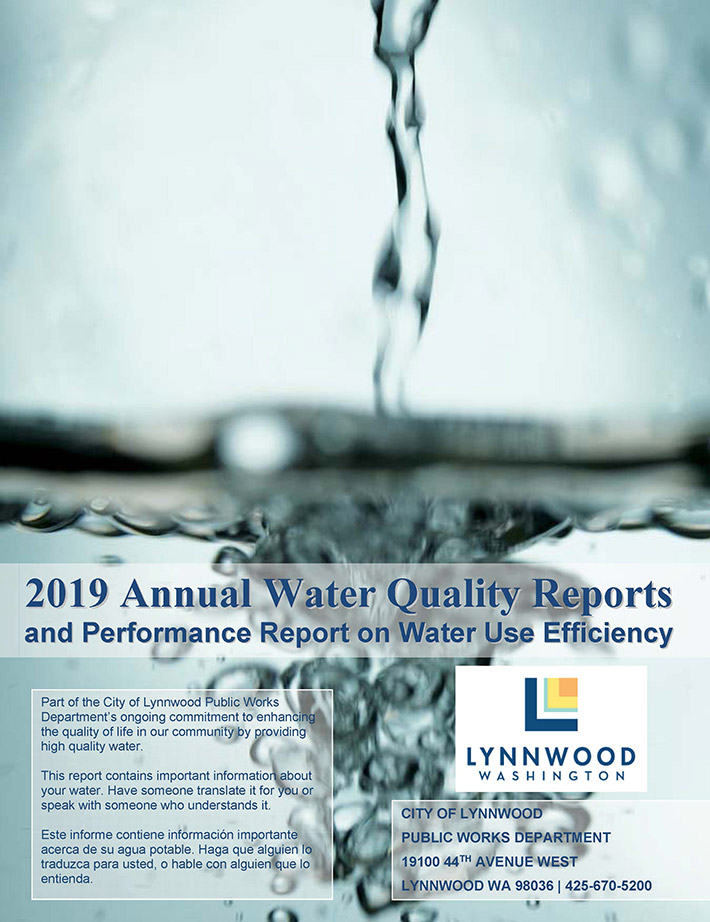 Share your local knowledge:
Check your local knowledge:
Did you know that the City has an annual water quality report?
Download the Annual Water Quality Report and other water utility documents from our website.
In the 1980s, the amount of water each person used was estimated to be 120 gallons per day. Nowadays, with reduced lawn watering, low flow toilets and appliances, and general public awareness about conservation, the average use is nearing 60 gallons per day per person.
In 2018, the 38,260 residents of Lynnwood purchased over one billion gallons of water, which works out to an average of 77 gallons per person per day. Because this total includes many restaurants and businesses, residential use is actually much lower.
Lynnwood is a member of the Everett Water Utilities Committee which manages the conservation effort in the region. The Committee has sponsored toilet and appliance rebates in the past. Currently, conservation efforts are directed toward presenting the importance of conservation in school classrooms and providing free water saving kits to customers.
Conserving water
Below is a list of ways you can help conserve water and reduce your water costs:
Inside the house
Check for leaks in toilets
Install high-efficiency showerheads
Limit your showers to five minutes or less
Wash full loads of laundry and dishes
Fix leaking faucets
Monitor water use on utility bill
Outside the house
Put a 1-to-2-inch layer of mulch on your planting beds
Select plants for your yard that have low to moderate water needs
Only water your yard every three days (see our recommended watering calendar)
Leave clippings on the lawn after mowing (called

"grasscycling"

)
Install a weather-adjusting irrigation controller (clock)
Only water plants and plant beds in your landscape (don't water the grass)
Take part in a utility conservation program
Share your local knowledge
Check your local knowledge:
How do you conserve water?
Look at the suggestions for conserving water inside and outside the house and consider how many you do – or can start doing!
Two types of water main construction happen in Lynnwood: rehabilitation and system expansion.
Rehabilitation
Rehabilitation is the replacement of older pipes that are too small to provide the modern requirements for flow to fire hydrants and older steel pipes that tend to develop leaks. In 2017, eight small projects were combined into one large project and we replaced almost two miles of old leaky steel main.
Expansion
The many projects around Lynnwood also contribute to the water main system. Any new, large buildings constructed need enough water supply to protect them in the case of a fire. This often requires developers to increase the size of water mains or add new ones. The City of Lynnwood often partners with developers to provide new, redundant loops of water mains that make the entire system more reliable. For example, we partnered on the recent Costco project on the old Lynnwood High School site to install a new water main loop all the way down Alderwood Mall Parkway and around the 33rd Avenue West ring road.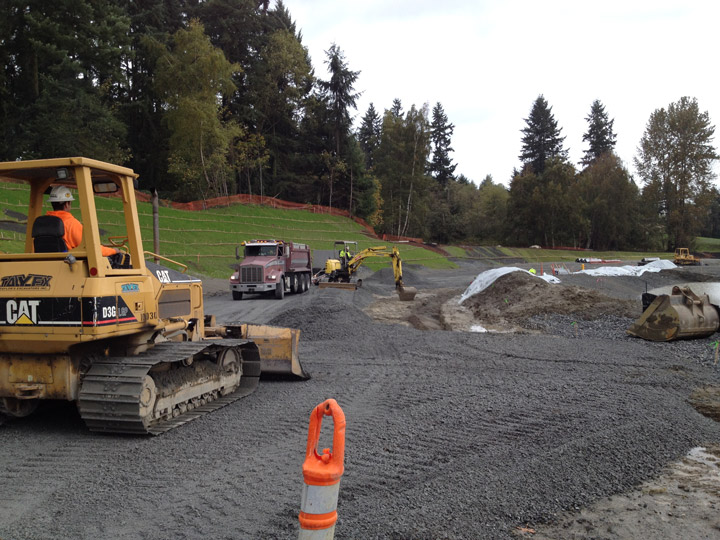 The water pressure in the City of Lynnwood is regulated by our two steel water reservoirs on 40th Avenue West. The tanks are 35 feet high and the water in them varies from approximately 28 feet to 33 feet, so our pressure does not change much during the day. The homes located high on the hill near the reservoirs have the lowest pressure, at around 35 pounds per square inch (psi), while residents down by Hall Lake, our lowest area, have over 100 psi.
We have several water pressure zones in the City designed to keep pressure at optimum levels. If water pressure is too low, below 30 psi, it can impede fire flow. Water pressure that is too high, over 120 psi, can contribute to leaks in customer piping and appliances.
One of the City of Lynnwood's highest priorities is the health and safety of our community. Understanding our drinking water utility system is key to ensuring we all have quality drinking water. Tell us about your experience with our water system around Lynnwood.
Everyone who fills out a survey will be entered in a raffle to win a moisture meter to measure the moisture levels in your home from the City of Lynnwood.
Name and contact info: